Animelo Summer Live 2014 (Anisama)
04-03-2014, 09:27 PM
Post: #1
Hina
Administrator


Posts: 356
Joined: Apr 2014
Reputation: 0
Animelo Summer Live 2014 (Anisama)
Animelo Summer Live 2014 mascot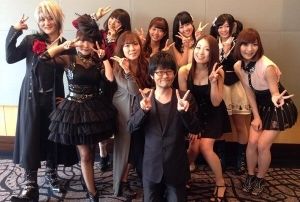 This annual event, the biggest worldwide on the anisong calendar, is set for
29, 30 and 31 August 2014
at the
Saitama Super Arena
, with 2014 marking the 10th outing for this mega franchise.
In reference from the first press conference revealing their line-up was filled with Anisama regulars, such as angela, Minami Kuribayashi, GRANRODEO, May'n, LiSA, Mamoru Miyano, Minori Chihara, and of course Nana Mizuki on closing night. This year also marks the return of JAM PROJECT after their last appearance in 2011.
In addition, JAM PROJECT's Masami Okui is composing this year's theme ONENESS with arrangement by film score composer Takayuki Hattori.
Announced Artistes are the following:
29 August, Friday:
ALTIMA (Accel World OP, Strike the Blood OP)
ZAQ (Chuunibyou demo Koi ga Shitai OP)
JAM Project (Keroro OP & ED, Bakuman ED)
sweet ARMS (Date A Live OP,Upotte! OP)
Chihara Minori (Kyoukai Senjou no Horizon OP, Nobunaga the Fool OP)
fripSide (To aru Kagaku no Railgun OP)
Day 2:
angela (K project OP, Kakumeiki Valvrave ED)
Minami Kuribayashi (Medaka Box OP, Carnival Phantasm OP)
GRANRODEO (Karneval OP, Kuroko no Basuke OP)
FLOW (Samurai Flamenco OP, Eureka Seven OP)
Sachika Misawa (To aru Kagaku no Railgun S ED, Accel World ED)
Suzuko Mimori (Outbreak Company OP, Ace of Diamond ED)
Momoiro Clover Z (Dragon Crisis ED, Yosuga no Sora ED)
Day 3:
Yui Ogura (Unbreakable Machine Doll ED, Hentai Ouji to Waranai Neko ED)
Konomi Suzuki (Sakurasou no Pet na Kanojo ED, WATAMOTE OP)
Yukari Tamura (Mahou Shoujo Lyrical Nanoha ED, OreShura ED, Nourin OP)
Nana Mizuki (Symphogear OP, Dog Days OP)
Mamoru Miyano (Uta no Prince-sama OP, Wooser's Hand-to-Mouth Life theme)
May'n (Inari, Kon Kon, Koi Iroha OP, Blood Lad OP)
YuiKaori (Kiss x Sis ED)
LiSA (Fate/Zero OP, Sword Art Online OP, Day Break Illusion OP)
For the first pre-order balloting for Anisama 2014 tickets will be available to
Animelo and animeloLIVE! members starting from 1 April 2014 , 3:00 PM JST, to 21 April 2014, 12:00 PM JST.
General ticket sales will commence on 29 June.
Each ticket for each day will be sold at 8700 JPY (~110 SGD/ 980 000 IDR)
http://anisama.tv/
#anisama
---
ゆみはら・ひな〜♪
04-10-2014, 02:07 AM
Post: #2
Hina
Administrator


Posts: 356
Joined: Apr 2014
Reputation: 0
RE: Animelo Summer Live 2014 (Anisama)
"

-Kuga


Recording theme song "Oneness":

アニサマテーマソングのレコーディング。アイドル活動中のatsukoさんをパシャリ。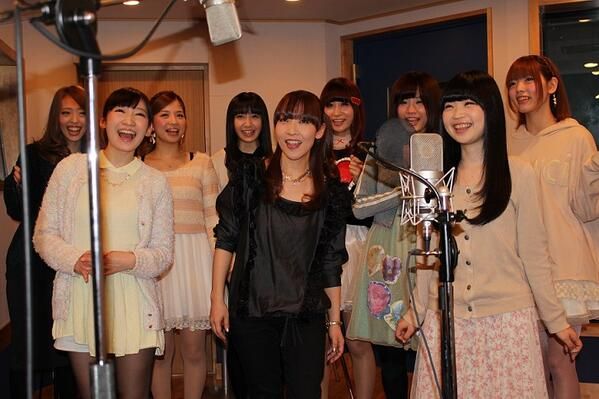 https://twitter.com/SaitoPPP/status/453170669316870144
 #aikatsu #anisama


"
---
ゆみはら・ひな〜♪
04-11-2014, 06:43 AM
Post: #3
Hina
Administrator


Posts: 356
Joined: Apr 2014
Reputation: 0
RE: Animelo Summer Live 2014 (Anisama)
"

-Kuga
Minorin (Minori Chihara) on the left, Mimorin on the right.
"
---
ゆみはら・ひな〜♪
User(s) browsing this thread: 1 Guest(s)